Dining at Roundwood House

Our Sample menus & Wine List

Sample Starters
-Seared Figs with Toonsbridge Mozzarella, Hummus, Maple Glazed Baby Heirloom Carrots, Microgreens, Fermented Chilli Vinaigrette & Smoked Salt
- Pancetta Wrapped Asparagus with Guacamole, Cured Egg Yolk & Balsamic Reduction
- Hot Smoked Salmon & Prawn Timbale, with Pickled Cucumber, Avocado, Pink Grapefruit, Tomato Brandy Aioli & Rainbow Trout Caviar
- Pulled Venison Croquette, with Wild Mushrooms & Blue Cheese Cream Sauce
- Cured Duck Breast, with Apple & Raisin Chutney, Creamed Goat's Cheese & Sesame Ginger Sauce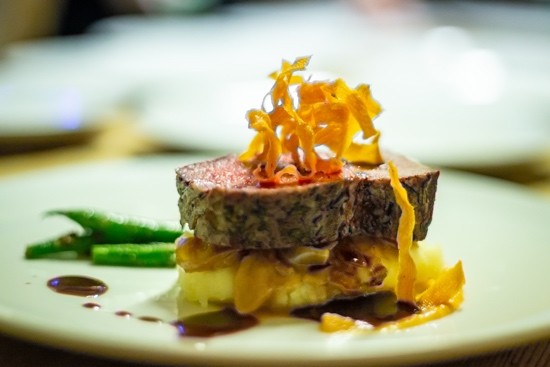 Sample Mains
- Roast Lamb Loin with Blueberry Sauce, Sweet Potato Puree, Green Bean Almondine & Parsnip Crisps
- Roast Beef Striploin with Natural Jus, Caramelized Onions, Beetroot Purée, Asparagus & Blue Cheese Compound Butter
- Roast Loin of Wild Venison with Cranberry Jus, Cashel Blue Cheese Croquettes, Smoked Beetroot Purée & Caramelized Parsnips
- Seared Breast of Skeaghanore Duck and White Bean Cassoulet with Smoked Venison Sausage, Confit Duck Leg & Braised Red Cabbage
- Cider Braised Lamb with Chorizo Sausage, Maple Glazed Heirloom Carrots, Crème Fraîche, Mint & Coriander Salsa
All Mains are served with either Mashed, Confit or Dauphinoise potatoes.
Cheese Course
According to the well known French saying...
"A meal without cheese, is like a day without sunshine.''
Since we already have lots of days without sunshine at Roundwood, the least we can do is serve a cheese course.
We use all Irish cheeses on our boards and serve them with Apple & Raisin Chutney and Sesame Crackers straight from the oven.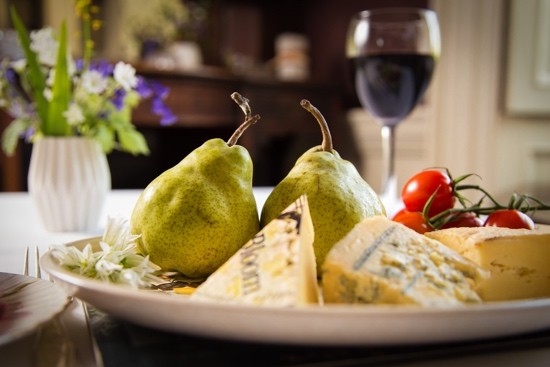 Sample Desserts
- Caramel & Cranberry Tart with Flapjack Crumb & Vanilla Ice Cream
- Whiskey Chocolate Mousse with Candied Cashew Nuts & Salted Caramel Ice Cream
- Lemon and Strawberry Tart with Bertha's Revenge Gin Ice Cream
- Almond & Blueberry Tart with Vanilla Ice Cream
- Burnt Butter, Dark Chocolate & Cashew Cookies with Brandy Cream
Roundwood Wine List

Wines are carefully selected by Paddy with knowledge & passion, sometimes too much passion one could argue. The wines are mainly, but not exclusively European, & Paddy has met many of the producers, all of whom have unique stories to tell.
View our wine list.  Click on the image below: